Why did the Findity brand evolve?
After years of operating with two brands, Companyexpense and Findity, it felt natural to merge them. We're quickly growing in new markets, and running two brands means a shared focus, so it's been a long time coming.
Under the one new Findity brand, we can continue to focus on developing and innovating expense management across all markets. And provide customers and partners with the best expense management possible.
What's the story behind the brand?
It's in our nature to challenge the way expenses are managed, and for years we've done just that by developing a product that truly helps customers with real-life problems.
It's therefore easy to get focused on the technology. But we wanted to take it in a different direction and create a brand for the people. The people within our organisation, who makes our expense management solutions come to life. The people using our products, who take back time and spend it on what matters most to them.
The brand is built on a sense of simplicity, security and trust. It's a no-nonsense brand with structure, balance, and logic, complimented by authentic, vibrant photography depicting a cross-section of life.
Tell us more about the logo, the so-called "Fehu"?
Yes. The Fehu comes from the ancient Nordic Rune alphabet and symbolises wealth, money and financial strength. It is said to guide the right energies in life surrounding money and its practical use for good.
It was easy choosing the Fehu as our new logo. It represents our Swedish heritage, and its meaning truly resonates with our product – giving financial strength back to people.
What's to expect in the future?
Brands will always evolve, but Findity will continue to be just that; Findity. We will now continue our focus on international expansion and strengthen our position as a leading partner and provider in expense management.
Find time. Find focus. Find your purpose. Findity.
Learn more about our product here.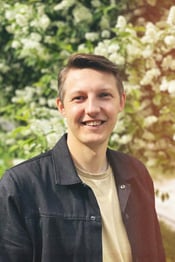 Emil Andersson
Head of Marketing at Findity